4Kx2K HDMI to HDMI and Optical SPDIF +3.5mm Stereo Audio Extractor Converter (HDMI Input,HDMI + Digital/Analog Audio Output)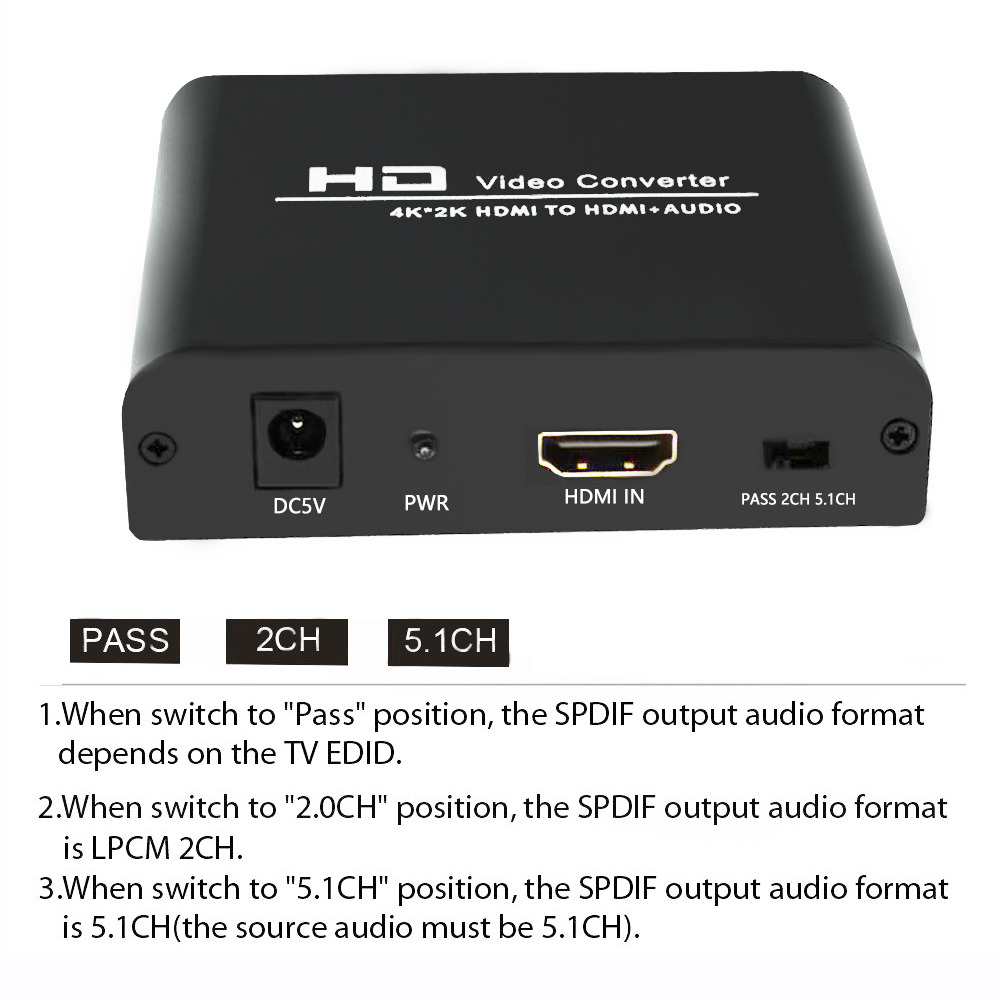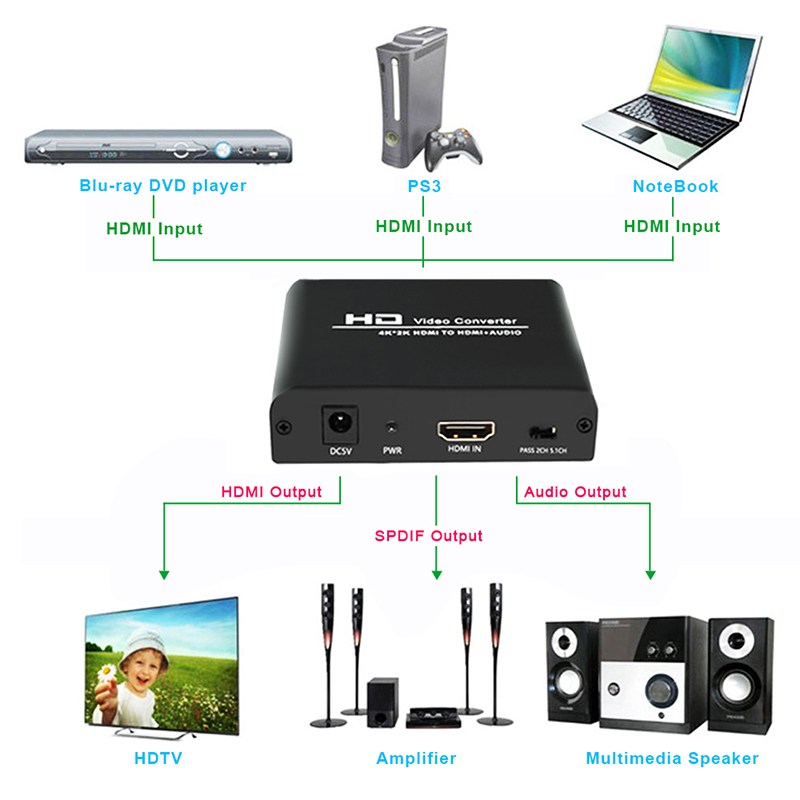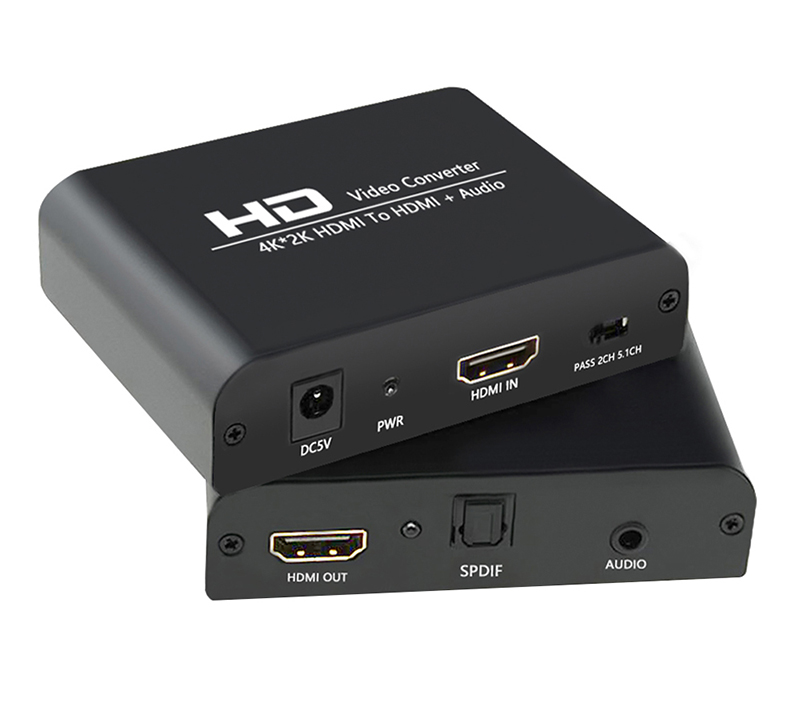 This HDMI sudio signal extractor/ Analog Audio Converter Separator with one HDMI input, one HDMI output, one SPDIF output and RCA 3.5mm stereo audio output. Support 4Kx2K 1080P and 3D,up to 3840x2160/30hz,support Max resolution 2160p.
Now you can output high-definition screen easily,adjust the output volume freely!
Feature:
One HDMI Input to One HDMI Output, Extract audio signals to SPDIF fiber Audio output or 3.5mm stereo audio output
Audio EDID Settings: 2CH for 3.5mm audio or SPDIF stereo output; 5.1CH for SPDIF Output. PASS for HDMI to hdmi. SPDIF Output Supports Up to DD / DTS 5.1CH and DD+ Audio; 3.5mm audio Output Supports 2CH PCM Stereo Audio
Supports 24 bit /deep color 30bit, 36bit per channel (36bit all channel) deep color. Supports HDCP, Video EDID Pass Through
This item supports Apple TV and various Blu-ray player and satellite receivers,Xbox one,Wii U/ PS3 PS4/raspberry pi. Please turn off Dolby Digital Plus for Amazon Fire TV,Apple TV,Roku and Chromecast if no sound!
Specifications:
HDMI resolution:4Kx2K/1080P/1080i/720p/576p/576i/480p/480i
Support video color format:24bit/deep color 30bit,36bit
Audio output:3.5mm audio+SPDIF
Max bandwidth:340MHz
Max baud rate:10.2Gbps Input/Output TMDS signal:0.5~1.5Volts p-p(TTL)
Input/Output DDC signal:5Volts p-p (TTL)
Max working current:500mA
Power adapter format:Input:AC (50HZ, 60HZ) 100V-240V;Output: DC5V/1A
Operating Temperature range:(-15 to +55 degree)
Operating Humidity range:5 to 90%RH (No Condensation)
Dimension (L x W x H):87x75x22 (mm)
Weight:292g
No loss of quality
- Input cable distance≤10m AWG26 HDMI standard cable
- Output cable distance≤15m AWG26 HDMI standard cable
NOTE:
Switch EDID Button
Switch the EDID audio switch in the front. Change it between 2CH, 5CH or pass.
Turn Off Dolby Digital Plus
PASS: HDMI pass mode. The audio and video can be convertered from the HDMI output. SPDIF and 3.5mm audio will not output any sound.

2CH: 2 channel stereo mode. Source device will send 2CH PCM stereo audio in HDMI which can be converted to 2CH analog stereo and output via 3.5mm audio (SPDIF and HDMI also have stereo audio output at the same time).
5.1CH: 5.1 channel mode.Source device sends Dolby Digital / DTS which can be extracted via SPDIF out; The3.5mm audio output will not have sound. SPDIF does NOT support 5.1 Dolby
Digital Plus. Please turn off Dolby Digital Plus for Amazon Fire TV,Apple TV,Roku and Chromecast if no sound.