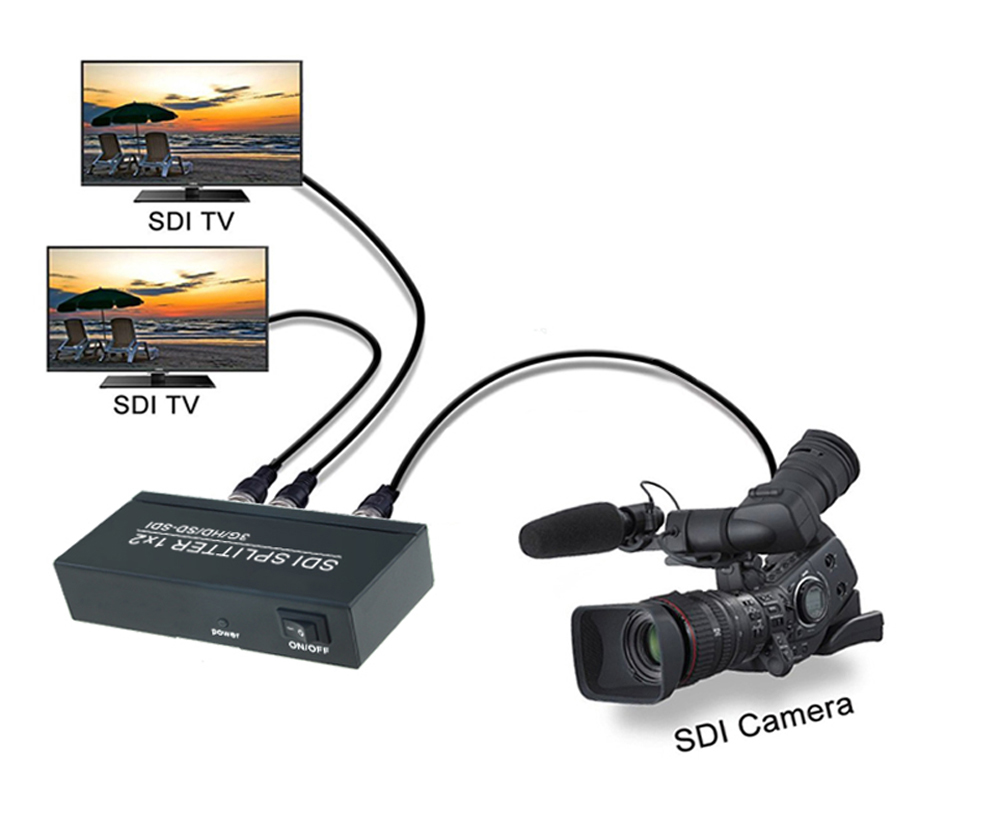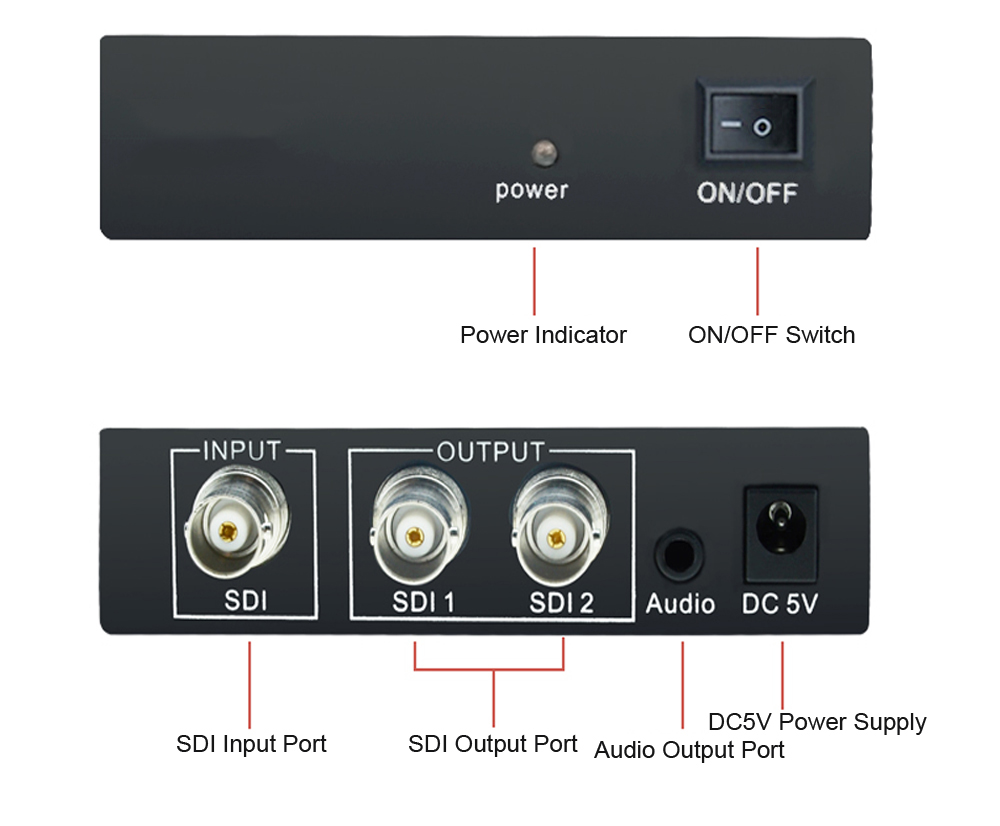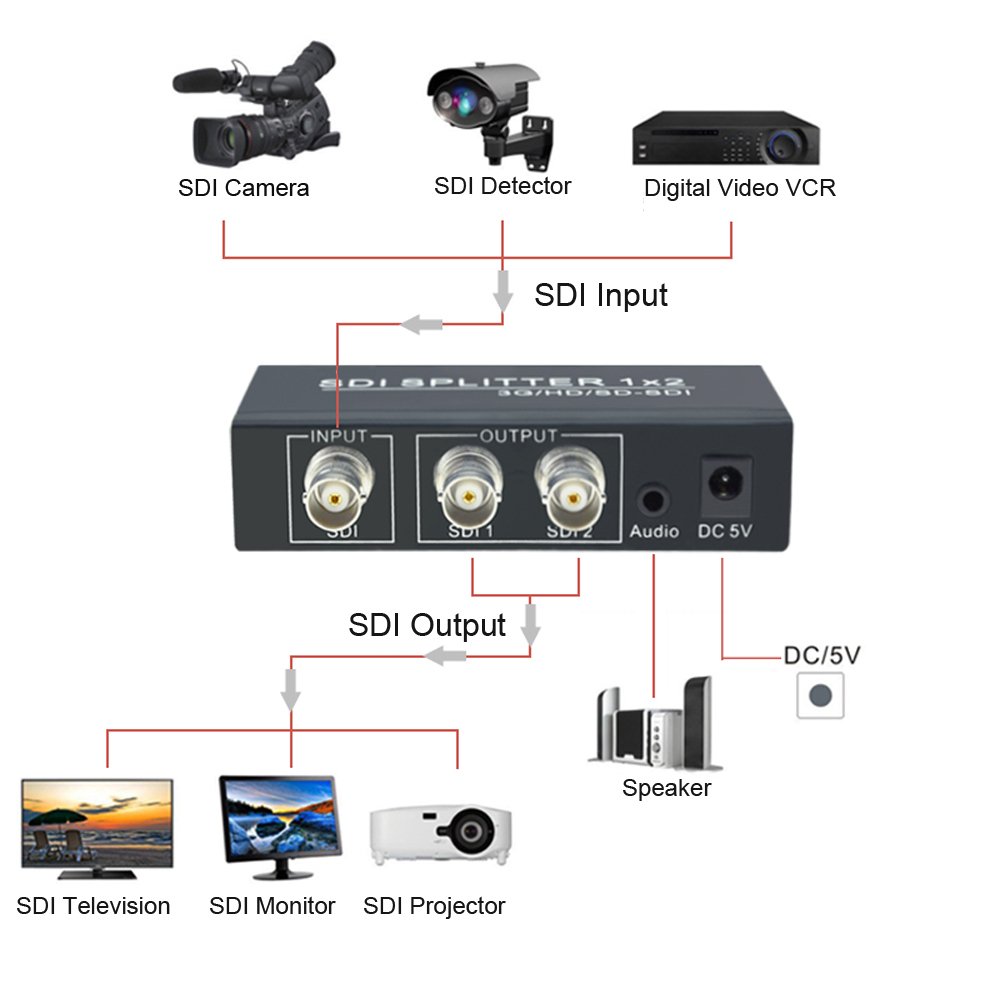 The 1x2 SDI Splitter 1 In to 2 Out SD-SDI HD-SDI 3G-SDI Amplifier Repeater Extender This Panlong SDI Splitter distributes one SDI signal to 2 simultaneous SDI outputs. It supports full range of SDI signal formats including SD-SDI, HD-SDI, 3G-SDI with easy operation and high reliability. This splitter can be widely used in SDI broadcast room, no-linear editing field, CCTV security and training showroom etc.
Features:STEYR SDI Video Splitter with 1 input 2 output 1 to 2 Splitter 1080P HD SDI Video Splitter SDI to SDI Converter
1.SDI splitter function
After 3 installation is done,the splitter can start normal working.It can support SD-SDI(270Mbps),HD-SDI(1.485Gbps) and 3G-SDI(2.97Gbps) and distribute to 2 simultanous SDI outputs.
2. SDI repeaterfunction
This splitter provides equalized and re-cloked transmission,and supports signal input and output distances of up to 400meters for SD-SDI signal,200meters for HD-SDI signal and 100meters for 3G-SDI signal.
Note:Tested by Belden 1694A cable,the distance may vary if by cables of different specification.
3. Wide valtage design
SDI splitter applies wide votage inside design.It can support DC 5V~30V voltage input (lowest power is 5V) and is more suitable for projects.
4. Intelligent design
It is plug and play and can detect SDI signal automatically.Indicator LED turns blue when correct SDI signal inputs,turns red when no signal or incorrect signal inputs and allows project customer to find the problem easily.
Specifications:STEYR SDI Video Splitter with 1 input 2 output 1 to 2 Splitter 1080P HD SDI Video Splitter SDI to SDI Converter
1. SDI input: BNC x 1 (HD-SDI/SD-SDI/3G-SDI)
2. SDI output: BNC x 2 (HD-SDI/SD-SDI/3G-SDI)
3. SDI standard: Compatible with 3G-SDI,SMPTE 424M,HD-SDI SMPTE292M and SD-SDI SMPTE259-C
4. SDI signal format: SD-SDI/HD-SDI/3G-SDI
5. SDI speed rate: 270~2970MB/s
6. SDI Impedance: 75
7. SDI input resolution: 480i@60HZ, 576i@50HZ, 720P@50HZ, 720P@60HZ, 1080i@50HZ; 1080i@60HZ; 1080P@24HZ, 1080P@25HZ, 1080P@30HZ, 1080P@50HZ, 1080P@60HZ;
8. SDI output resolution: 480i@60HZ, 576i@50HZ, 720P@50HZ, 720P@60HZ, 1080i@50HZ; 1080i@60HZ; 1080P@24HZ, 1080P@25HZ, 1080P@30HZ, 1080P@50HZ, 1080P@60HZ;
9. SDI signal output amplitude: 800mVp-p
10. Power consumption: <250mA (DC 5V)
11. Power: DC 5V (Support 5V~30V Voltage Input)
12. Working temperature: 0~60
Package Included:STEYR SDI Video Splitter with 1 input 2 output 1 to 2 Splitter 1080P HD SDI Video Splitter SDI to SDI Converter
1 x SDI 1x2 Splitter
1 x power supplier(US,EU,UK,AU)
1 x User manua