3 Port HDMI Switch 3 input 1 output hdmi switch 3x1 switches 3 in 1 out with USB Cable Power Supply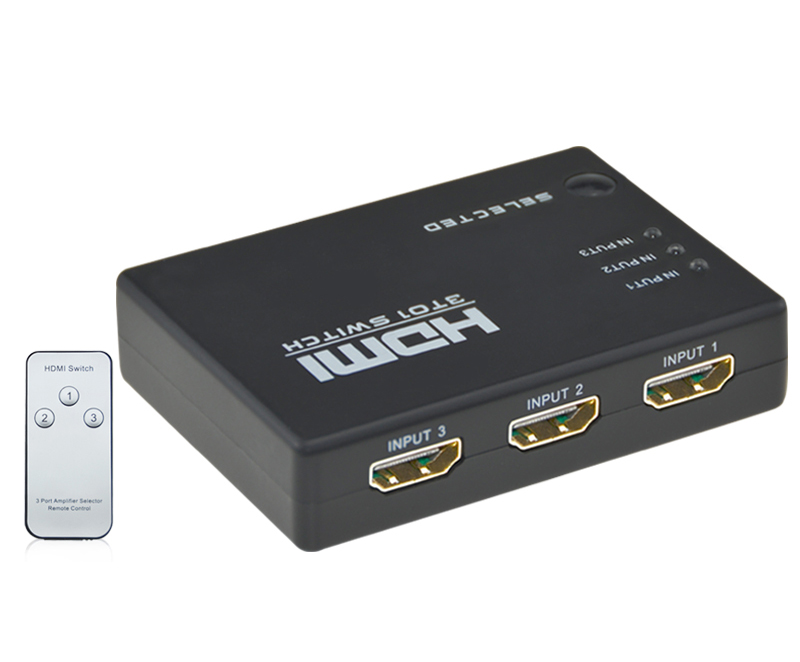 Introduction:3 Port HDMI Switch 3 input 1 output hdmi switch 3x1 switches 3 in 1 out with USB Cable Power Supply
The plastic 3x1 HDMI switch allows 3 HDMI ports to be switched to a single display
terminal via buttons on unit or IR remote control and intelligent function. As soon as the power supply of the source equipment is switched,this switcher will respond automatically.
It routes high definition video(in multiple resolutions up to 4Kx2K ) and digital audio from any one of the several sources to display units.
All inputs accommodate the connections of the high definition video sources
simultaneously, compatible well for HD-DVD,Sky-STB,PS3,Xbox360,etc.
Features: 3 Port HDMI Switch 3 input 1 output hdmi switch 3x1 switches 3 in 1 out with USB Cable Power Supply
* Multifunctional on switching:intelligent or mechanical.
* IR extender receiver(included)
* IR remote(included)
* Support HDMI 1.4
* Support highest video resolution 4K.
* Support 340Mhz/3.4 Gbps per channel(7.Gbps all channel) bandwidth.
* Support 12bit per channel(36bit all channel) deep color.
* HDCP pass-through
* Support uncompressed audio such as LPCM.
* Support compressed audio such as DTS Digital,Dolby Digital(including DTS-HD and Dolby True HD).
* Support 3D
Specifications: 3 Port HDMI Switch 3 input 1 output hdmi switch 3x1 switches 3 in 1 out with USB Cable Power Supply
Input DDC Signal ...................................................................................................5 volts p-p (TTL)
Maximum Single Link Range..................................................................4Kx2K
Output Video .........................................................................................HDMI 1.4
Vertical Frequency Range............................................................................50/60Hz
Video Amplifier Bandwidth.............................................................3.4Gbps/340MHz
Resolutions(HDTV).................................................480i/p,576i/p,1080i/p / 50&60Hz,4Kx2K/30Hz
Size(L-W-H).......................................................................................80X58X18mm
Weight(Net).....................................................................................................47g
Operating Temperature.......................................................................0°C to +70°C
Operating Humidity.................................................0% to 85% RH(no condensation)
Storage Temperature........................................................................-10°C to +80°C
Storage Humidity......................................................5% to 9% RH(no condensation)
Power consumption(Max)..................................................................................5W
Packing List: 3 Port HDMI Switch 3 input 1 output hdmi switch 3x1 switches 3 in 1 out with USB Cable Power Supply
1.Main Adapter- 3 in 1 out HDMI Switch
2.IR Receiver Cable
3.Remote Control
4.User Manual