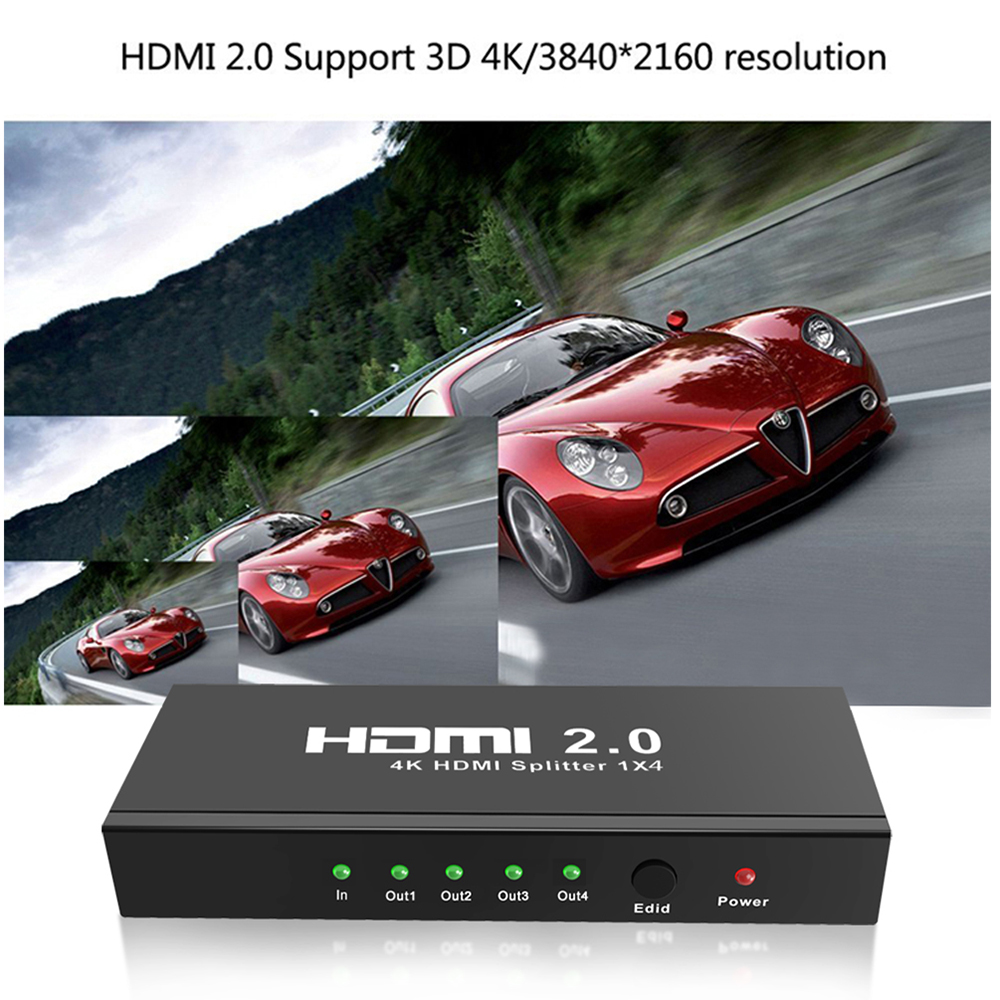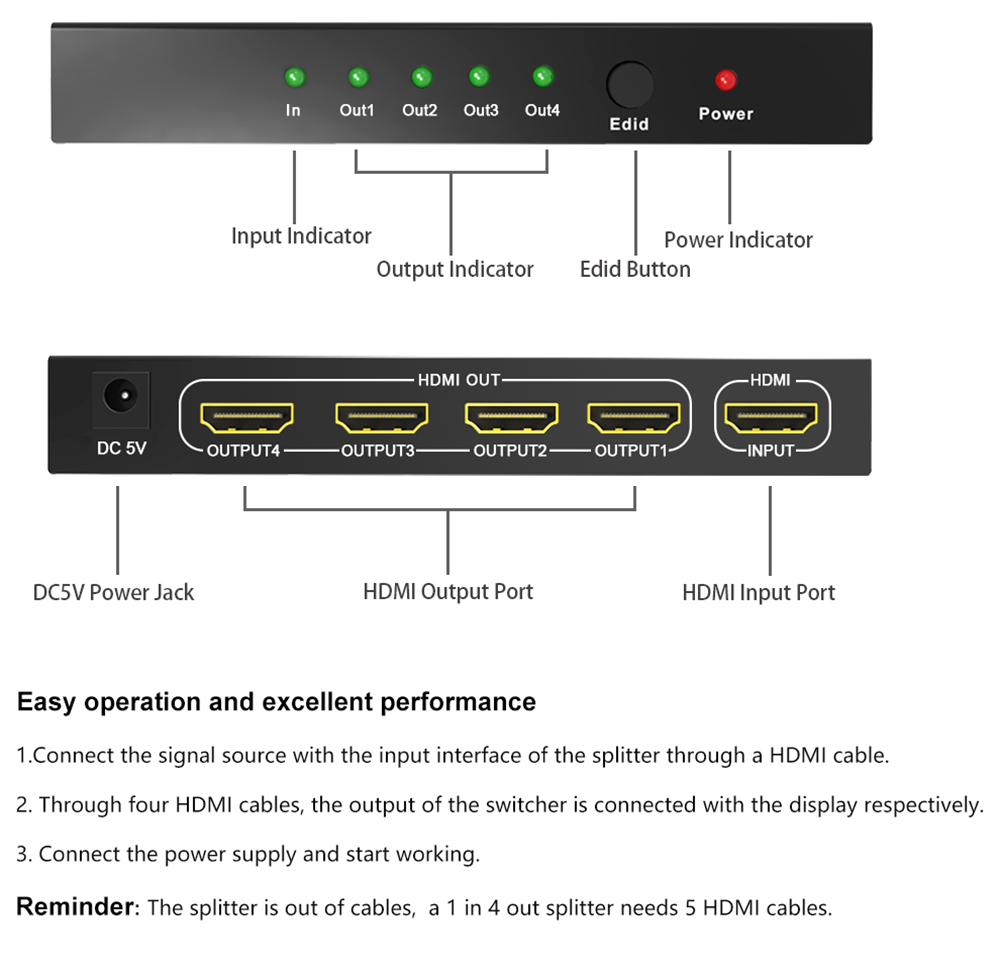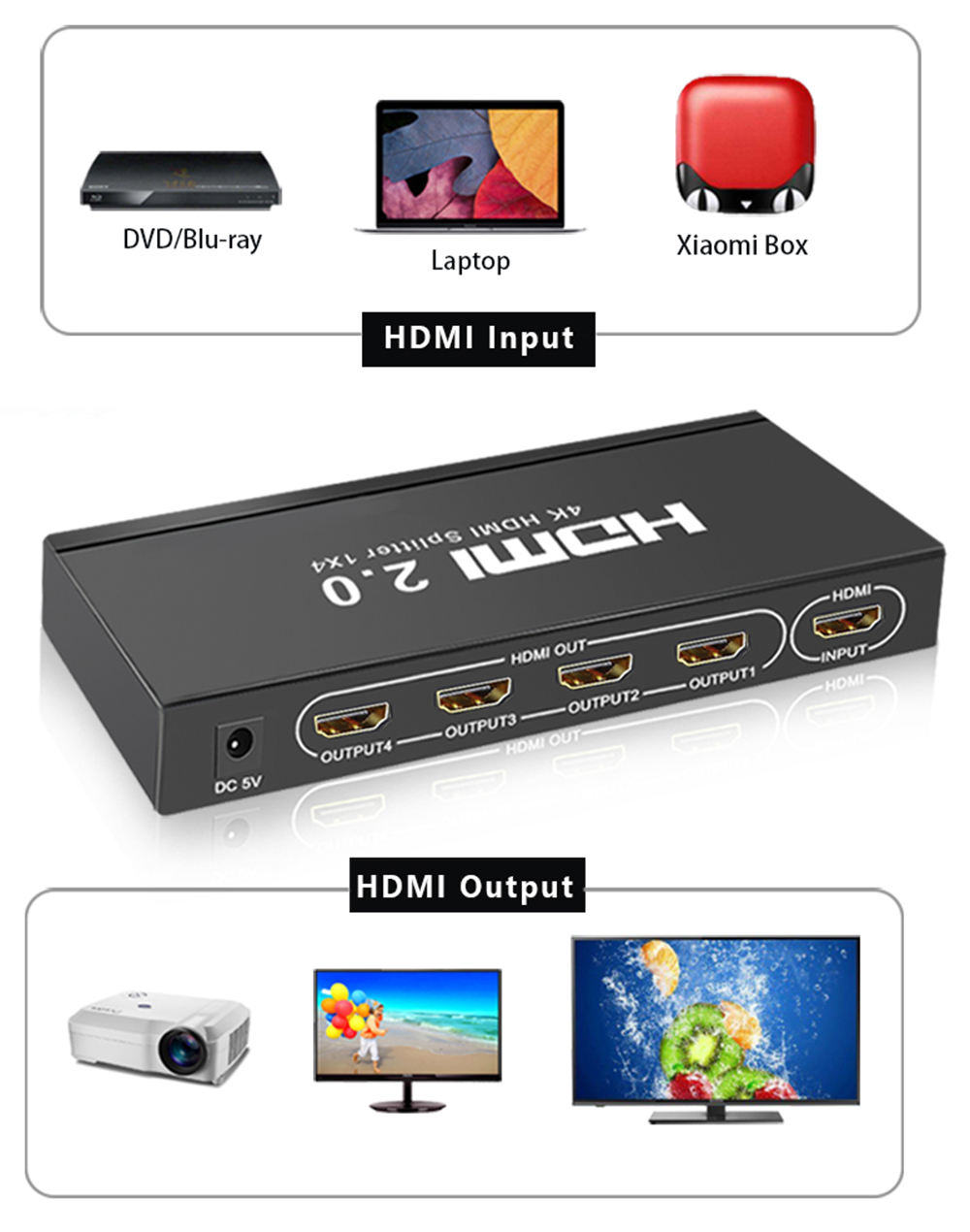 INTRODUCTION:
This HDMI 2.0 Splitter 1x4 use a single HDMI source,accessing to multiple HDMI sinks. It allows one HDMI device to be split easily to 4 HDMI compatible monitors or projectors. In addition,it can be placed at the end of a long HDMI cable to regenerate the HDMI signal.
The resolution of this hdmi splitter can be up to 3840X2160/60Hz.
This product can support EDID management function, comes with eight kinds of EDID mode, the users can choose according to their own needs.

FEATURES:
Support HDMI 2.0 ,HDCP2.2
Support 3D video format
Support high resolution up to 3840X2160/60HZ
Support the max baud rate of 6G and TMDS clock can be up to 600 MHz
Support 8/10/12 bit deep color
Support AWG26 HDMI standard cable:
when the resolution is 1080p and below, input up to 8 meters,output to 8 meters.
when the resolution is 4K, input up to 8 meters, output up to 8 meters.
Support single HDMI source,accessing to multiple HDMI sinks, the source can be DVD player, A/V receiver, set top box and etc
Support serial port online upgrade
Support EDID management, 5V power adapter


Specifications:
HDMI version:HDMI 2.0
HDCP version: HDCP 2.2
HDMI resolution:up to 3840*2160/60Hz
Support video format:8/10/12bit Deep color
Support audio format:DTS-HD/Dolby-trueHD/DTS/Dolby-AC3/DSD
Max bandwidth:600MHz
Max baud rate:6Gbps
Input cable distance:(1080p resolution) ≤8m,(4K resolution)≤8m AWG26 HDMI standard cable
Output cable distance:(1080p resolution) ≤8m,(4K resolution)≤8m AWG26 HDMI standard cable
Max working current:1.4 A
Power adapter format:input AC (50Hz, 60Hz) 100V-240V; output:DC5V/2A
Operating Temperature range:(-15 to +55)

Packge:
1x HDMI 2.0 Splitter 1x4
1x DC5V Power Supply(US,EU,UK,AU Power Plug for your choice)
1x User Manual