Ultra HD 4 Port HDMI Splitter 1x4,HDMI Splitter 1 In 4 Out Splitter HDMI 1.4 Divisor 4Kx2K 1080P 3D For HDTV Projector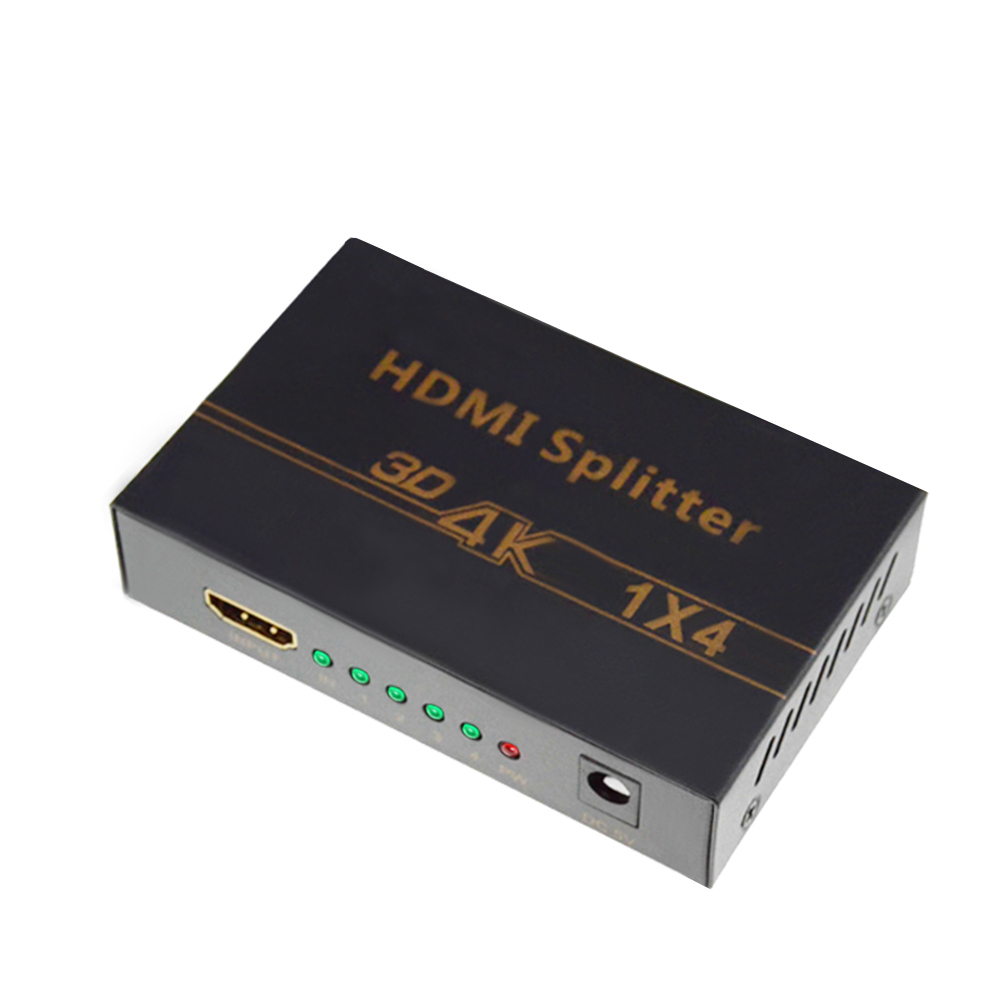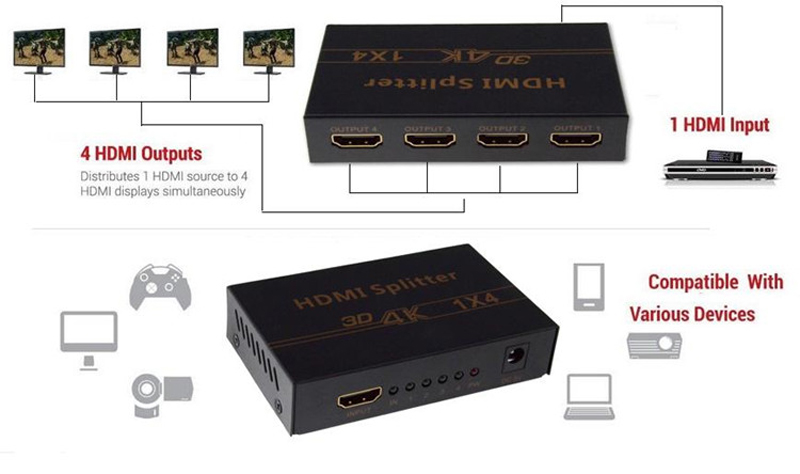 Instruction:Ultra HD 4 Port HDMI Splitter 1x4,HDMI Splitter 1 In 4 Out Splitter HDMI 1.4 Divisor 4Kx2K 1080P 3D For HDTV Projector
1.4v HDMI Splitter supports all the mandatory and several optional 4k formats described in HDMI 1.4 specifications, maintains sharp HDTV resolution up to 4kx2k full HD and 3D.
This 1×4 HDMI Splitter uses a single HDMI sources, accessing to multiple HDMI sinks. The Splitter allows one HDMI devices to be split easily to four HDMI compatible monitors or projectors. The Splitter can also be placed at the end of a long HDMI cable to regenerate the HDMI signal.
FEATURES: Ultra HD 4 Port HDMI Splitter 1x4,HDMI Splitter 1 In 4 Out Splitter HDMI 1.4 Divisor 4Kx2K 1080P 3D For HDTV Projector
1)HDMI 1.4V with 4Kx2K
2)Distributes 1 HDMI source to 4 HDMI Displays simultaneously.
3)Supports all the mandatory and several optional 4k formats
4)Supports High Definition Resolutions : 3840x2160@30Hz,3D 1080p@24HZ, 1080P@60Hz, 720p/1080i @ 120Hz
5) Compatible blue-ray,PS3 media format,fully support 3D,4K display
6) EIDI Duration: 4 seconds
| | |
| --- | --- |
| SPECIFICATION | |
| Name of the product | HDMI Splitter |
| Signal Inputs/ Output | 1 input ..4 outputs |
| HDMI Connector | Type A 19 pin female |
| HDMI Version | HDMI 1.4V +HDCP1.3(compatible HDMI 1.3/1.2/1.1/1.0) |
| Support video format | DTV/HDTV:480i/576i/480p/576p/720p/1080i/1080p/3D/3840x2160 video |
| Support audio format | DTS-HD Master Audio、Dolby true-HD etc. |
| Support video color format | Xv-YCC/deep color up to 48bit |
| Max baud rate | 10.2Gps |
| Operating Frequency | Up to 340MHz |
| Max.cable extension | 15 meters by 28AWGHDMI cable;20 meters by 26AWGHDMI cable |
| Power consumption | 10 watts(Maximum) |
| Input/output DDC Signal | 5 volts p-p (TTL) |
| Input/Output TMDS Signal | 0.5~1.5 Volts p-p |
| Max working current | 1.4A |
| Power adapter format... Input | AC(50HZ,60HZ) 100V-240V; Output: DC5V |
| Operating Temperature range | (- 15 to + 55 Celsius degree) |
| Operating Humidity range | 5 to 90% RH (No Condensation) |
| Size | 95X61X21mm |
| NW | 116g |
Packing List: Ultra HD 4 Port HDMI Splitter 1x4,HDMI Splitter 1 In 4 Out Splitter HDMI 1.4 Divisor 4Kx2K 1080P 3D For HDTV Projector
1.Main Adapter- 1x4 HDMI Splitter 4Kx2K
2.DC5V Power Supply(US EU UK AU Power Supply for your choice)
3.User Manual